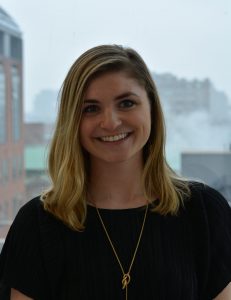 Gabrielle MacNaughton
Graduate Student, Clinical Psychology
Gabrielle is a first year graduate student in the Clinical Psychology Ph.D. program at UCLA. She graduated in 2018 from New York University with her B.S. in Applied Psychology. As an undergraduate, Gabrielle worked in Dr. Anil Chacko's FACES lab where she studied neurocognitive interventions for youth with ADHD and disruptive behaviors. After graduating, Gabrielle worked under Dr. Susan Faja at Boston Children's Hospital in the Labs of Cognitive Neuroscience where she expanded her knowledge on executive functioning among children and adolescents with ADHD and autism spectrum disorder. Following that, she joined Dr. Shafali Jeste's lab at UCLA Semel Institute where she studied brain-based biomarkers among of infants at a high risk for developmental disabilities. Gabrielle's current research interests include studying family processes among children with neurodevelopmental disorders to understand their impact on externalizing behaviors, cognitive impairments, and social-emotional challenges.